Competitions - Club and National
Competition entries are invited for the 2017-18 season. Forms are available to be downloaded from this site on the "Forms" page or on display in the club. Entries must be received by 31st October 2017 and accompanied by your entry fee of £2 per person per competition. Prior to entry, you must be available to play in the finals which are on 23rd, 24th and 25th March 2018.

Click here for 2018 Finals Schedule
Please note: the Men's Triples Final that should have been played on Sunday 18th March will now take place on Friday 23rd March at 5.30pm
Congratulations to our Under 25's Double rink Triples who have reached the quarter finals against Swale in the David Cornwall National competition.
Congratulations to ALAN CAWDELL who reached the quarter finals of the Champion of Champions 2018
Club Finals April 2017
| | | |
| --- | --- | --- |
| | Winner | Finalists |
| Mens Singles | Alan Cawdell | Darren Griffith |
| Ladies Singles | Gay Allen | Hannah Gilford |
| Mens Over 60's Singles | Alan Cawdell | Bob Mortlock |
| Ladies Over 60's Singles | Barbara Sleap | |
| Mens Over 75's Singles | Ken Davis | Ron Bavin |
| Novice Singles | Mark Roberts | Ron Bavin |
| Maiden Singles | June Mortlock | |
| Mens Pairs | Jack Berry & Robbi Hayes | Darren Griffith & Travis Meller |
| Mens Over 60's Pairs | Alan Cawdell & Bryn Davies | Bob Mortlock & Ian Morey |
| Ladies Pairs | Gay Allen & Ruth Emms | |
| Mixed Pairs | Gary Soal & Peggy Evans | Paul & Sue Green |
| Mens Triples | Darren Griffith, Alan Cawdell & Travis Meller | Keith Beckett, Pete Furmidge & Paul Attrill |
| Mens Over 50's Triples | Bob Mortlock, Ian Morey & Bryn Davies | Frank Chatfield, Ralph Lale & John Michelmore |
| Mixed Triples | Bob Mortlock, Ian Morey & Ronnie Berry | Jack Berry, Alistair Howick & Hannah Gilford |
| Mens Fours | Bob Mortlock, Ian Morey, Bryn Davies & Keith Beckett | Jack Berry, Alistair Howick, Pete Furmidge & John Pearce |
| Mixed Fours | Ian Ball, Annie Morris, Gay Allen & John Pearce | Jack Berry, Alistair Howick, Hannah Gilford & Kirstysue Mortlock |
| | | |
Presentation Evening for 2015/16
2015-16 Club Championship Finals
| | | |
| --- | --- | --- |
| Competition | Winner | Finalist |
| Mens Singles | Darren Griffith | Alan Cawdell |
| Ladies Singles | Gay Allen | Barbara Sleap |
| Mens Over 60's Singles | Alan Cawdell | Barry Bridgeman |
| Ladies Over 60's Singles | Margaret Carrett | Barbara Sleap |
| Open Over 75's Singles | Ken Davis | Trevor Farmer |
| Novice Singles | Brian Wells | Jeff Johnson |
| Mens Pairs | Darren Griffith & Travis Meller | John Attrill & Dave King |
| Ladies Pairs | Barbara Sleap & Ann Day | Gay Allen & Ruth Emms |
| Mens Over 60's Pairs | Bryn Davies & Alan Cawdell | Roy Jemson & Bob Mortlock |
| Ladies Over 60's Pairs | Margaret Carrett & Val Addison | T McMurray & Sue Dobson |
| Mixed Pairs | Robbi Hayes & Gay Allen | Sandra Cawdell & Alan Cawdell |
| Mens Triples | Martin Butcher, Darren Griffith & Alan Cawdell | John Picking, Jack Berry & Keith Beckett |
| Mens Over 50's Triples | Mike Bradford, Les Benford & Keith Beckett | Bryn Davies, Ian Morey & Bob Mortlock |
| Mixed Triples | Mhairi Day, Pete Furmidge & Keith Beckett | Phyll Fredericks, Ian Morey & Bob Mortlock |
| Mens Fours | Bryn Davies, Keith Beckett, Ian Morey & Bob Mortlock | Martin Butcher, Robbi Hayes, Darren Griffith & Travis Meller |
| Mixed Fours | Ronnie Berry, Phyll Fredericks, Ian Morey & Bob Mortlock | Bryn Davies, Margaret Carrett, Elaine Davies & Alan Cawdell |
National Competitions
Congratulations to Gay Allen who reached the Champion of Champion Finals
Congratulations to Keith Beckett, Peter Furmidge and Alan Cawdell on reaching the final stages of the National Over 50's Triples (February 2016)
Congratulations to our Denny Cup team who reached the National Quarter finals, which was played on 20th February 2016 after a closely fought match Wey Valley won 87 - 77

Denny Cup away eight at Wey Valley (above, Bryn Davies, Martin Butcher, Alan Cawdell, Bob Mortlock, John Crews, Ian Morey, Robbi Hayes and Louis McCubbin) and Alan Cawdell skip and supporters (below) February 2016
Isle of Wight Indoor Bowls Club Competition Results 2014-15
Competition
Winner
Finalist
Novice Singles
Steve Wake
Dave King
Mens Singles
Alan Cawdell
Darren Griffith
Ladies Singles
Gay Allen
Sue Robbins
Mens Over 55's Singles
Brian Barrett
Bob Mortlock
Ladies Over 55's Singles
Gay Allen
Pauline Proud
Mens Pairs
Ian Morey & Bob Mortlock
Martin Butcher & Alan Cawdell
Ladies Pairs
Ruth Emms & Gay Allen
Ann Day & Barbara Sleap
Mixed Pairs
Robbi Hayes & Gay Allen
Ronnie Berry & Bob Mortlock
Mens Over 55's Pairs
Bryn Davies & Alan Cawdell
Fred Rylands & Peter Furmidge
Ladies Over 55's Pairs
Mhairi Day & Peggy Evans
Ann Day & Barbara Sleap
Mens Triples
Martin Butcher, Darren Griffith, Alan Cawdell
Mike Bradford, Les Benford & Keith Beckett
Mens Over 55's Triples
Bryn Davies, Ian Morey & Bob Mortlock
Ian Vallender, Ron Salmon & Norman Cooper
Mens Fours
Robbi Hayes, Ryan Trigg,Martin Butcher & Darren Griffiths
Bryn Davies, Dave Brown, Clive Wade & Paul Green
New Beginners
Gerald Rees
Geoff Clement
Denny Plate Finalists at Northampton in March 2014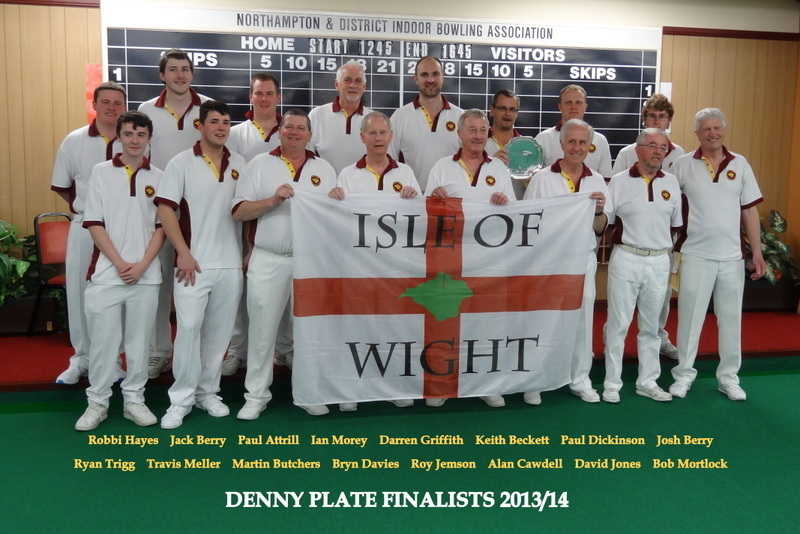 Isle of Wight Indoor Bowls Club Competition Results 2013-14
| | | |
| --- | --- | --- |
| Competition | Winner | Finalist |
| Novice Singles | Tony Harris | Lucas Trigg |
| Mens Singles | Keith Beckett | Darren Griffith |
| Ladies Singles | Tansy Wheeler | Pauline Proud |
| Mens Over 55's Singles | Alan Cawdell | John Pearce |
| Ladies Over 55's Singles | Gay Allen | Val Newton |
| Mens Pairs | Darren Griffith & Travis Meller | Keith Beckett & Robbi Hayes |
| Ladies Pairs | Ronnie Berry & Val Newton | Daphne Lacey & Sue Green |
| Mixed Pairs | Keith Beckett & Tansy Wheeler | Paul Green & Sue Green |
| Mens Over 55's Pairs | David Jones & Bob Mortlock | Richard Vickery & John Attrill |
| Ladies Over 55's Pairs | Daphne Lacey & Sue Green | Ruth Emms & Gay Allen |
| Mens Triples | Darren Griffith, Alan Cawdell, Martin Butcher | Keith Beckett, John Pearce & Mike Bradford |
| Mens Over 55's Triples | Bob Mortlock, Ian Morey & Bryn Davies | John Attrill, Richard Vickery & David Brown |
| Mens Fours | Bob Mortlock, Ian Morey, Barry Bridgeman & Brian Barratt | Roy Jemson, Keith Beckett, Steve Pryor & Mike Bradford |
| | | |